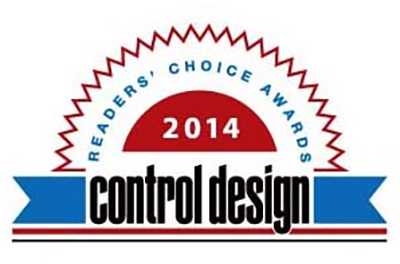 Radford, VA, USA, October 23, 2014: Kollmorgen has been awarded Control Design magazine's 2014 Readers' Choice Award for technical excellence in stepper motors. The Readers' Choice Award is the result of an independent survey among the magazine's subscribers, who have the right to specify, recommend or purchase industrial automation and control products. Control Design magazine asked its readers to provide the name of the best product supplier in each of the specified hardware or software categories. This is the third time Kollmorgen has received this award, and not only that, but in the stepper motor category, Kollmorgen received almost twice as many votes as the second place supplier.
Kollmorgen high-performance stepper motors enable precise, cost-effective and maintenance-free motion control and can provide the highest torque density of any stepper motor in its class today. This allows machine builders to get more power from the same size motor or to streamline machine size by using smaller motors without compromising performance.
Melanie Cavalieri, Product Manager, commented, "Kollmorgen has once again earned the recognition of Control Design readers for its industry-leading stepper motor technology and application experience. With over 70 years of motion control experience, we have helped innovators solve the toughest challenges in motion control around the world. Kollmorgen offers industry-leading finished stepper motor solutions that provide high flexibility and speed for those applications where performance is critical. In addition, for applications requiring special solutions, we have the capability and experience to build modified or custom solutions."
Kollmorgen offers a wide range of high performance stepper motor solutions. Stepper motors with high thermal performance, higher torque and support for higher shaft loads to meet diverse application requirements help machine builders to produce superior performance machines faster. In addition, Kollmorgen can offer hybrid stepper motors that combine optimized magnetic components in a compact frame with an innovative rotor-stator design to provide higher torque and smoother microstepping than similarly sized stepper motors. In addition, Kollmorgen's explosion-proof stepper motor lines are suitable for Class 1, Division 1, Group D positions.
About Kollmorgen
Kollmorgen is a leading global supplier of motion control systems and accessories. With more than seven decades of motion control design and development expertise, Kollmorgen delivers breakthrough solutions that are convenient, reliable, and unmatched in performance. With world-leading motion control concepts, industry-leading product quality, and expertise in integrating and customizing products, Kollmorgen is committed to creating an undeniable competitive advantage in the marketplace for equipment manufacturers.